| | |
| --- | --- |
| | Racconti e Crociere ora in svolgimento |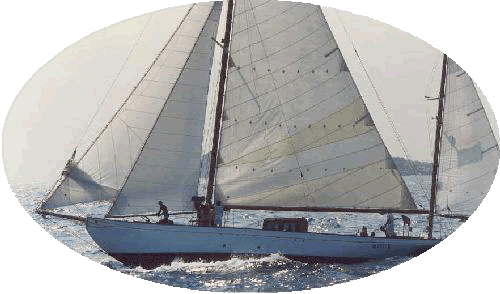 Segnaliamo i siti Internet di crocieristi attualmente in viaggio nel Mediterraneo,
dove troverete i loro racconti ed avventure.
Galana River II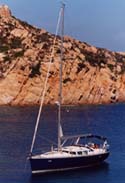 1 - Una crociera in Ottobre dalla Sardegna alla Tunisia e poi alla Sicilia, con Skipper Lorenzo Camillo (in inglese)
2 - Una crociera della Costa Smeralda e della Corsica, di Lorenzo Camillo (in inglese)

Il giornal di bordo della NANOU

- un ragazzo Italiano, emigrato in Australia, ritorna in Italia da solo in barca a vela




"Dastardly Deck Birds


To prepare to sleep, I tuned the RADAR on a passing ship to ensure it was well calibrated and set its alarm to wake me if anything came within 5 miles of us. My RADAR alarm is dastardly loud and always wakes me with a start. It sounds just like a bird has flown into my cabin and is about to attack! In fact, during the Indian Ocean passage, I did have a flock of birds on deck and they shared my annoyance whenever the RADAR would emit its ear splitting screech. The birds would answer in their own tone and then grumpily tuck their beaks back under their wing. They left in the early morning leaving me several "signs" that they did not approve too highly of my hospitality. Considering I was the only resting point for 500 miles in any direction, I reckoned that they were a spoilt bunch of birds and almost decided to take down my "CHICKS WELCOME" sign. It wasn't really meant for them anyways."

Nanou è attualmente in Spagna. Collegatevi con Lei al sito web:

http://www.nanou.org/

Phyler's Latest Cruise Reports
"We are on our way across the 1700 miles of the Med, but we keep running into foul weather. We got held up for 10 days in Sicily, but we finally were able to move on and get to Sardinia. We left there a few days ago and today we are in Mahon on the island of Minorca."
http://www.passagemaking.com/phylereps.htm

The Travels of E. GALOIS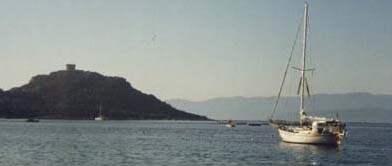 "In the spring of 1993 we sailed for Corsica, Italy, Sicily and Greece. Since we wanted to spend the winter of 1993 in Aegina, an Island south of Athens, during that summer of 1993 we made two trips through the Cyclades. In the spring of 1994 we headed North to Istanbul."
http://user.icx.net/~fgperey/itagree.html

Fix up a boat and sail around the world?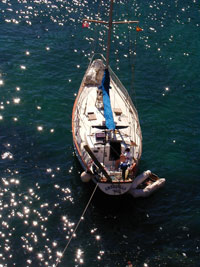 "We are just right now on our way westbound to Gibraltar. Amberella cruised Greece and arrived in Italy. We plan to reach the Kapverdic Islands. Until we get there we will learn if we are ready to cross oceans."
http://amberella.schefter.net/

The Starboard Home Chronicles


This is the story of Peg and Tom Maynard's world cruise aboard their forty-foot sailboat Starboard Home, built in 1986 by Valiant Yachts. They began their journey in May of 1999 from their Home Port of Oriental, North Carolina, U.S.A., and sailed to Bermuda, the Azores, and Spain and Portugal before flying home to the U.S. in November. They resumed their travels in March of 2000, and are spending this year exploring the Mediterranean before ending up in Turkey in the fall.

http://www.gate1.net/starboardhome/

Seacrest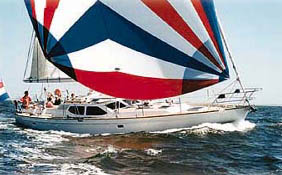 In 1997, the crew, Sylvia and Peter, stepped on board their Seacrest 47 and started to cruise through Europe. Virtually join them on board and share in their discovery of historic cities & tranquil anchorages and read about the people they meet.

The Northern Magic http://www.northernmagic.com/
Progetto Adriatico Crociera in Croazia http://www.projectadriatic.org/adriatic.html

Tales of Cruises http://cruises.about.com/travel/cruises/cs/europe/index.htm

Solitario Clicca qui per Consigli sulla crociera in solitario nel Mediterraneo da Lorenzo Camillo (in inglese)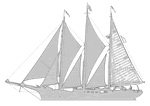 mediterranean-yachting.com
Copyright L. Camillo 2000