Page
1

Mediterranean Cruise 2011
Morocco to Spain
After Mabi Two's return to the Mediterranean after her Caribbean adventure, she was laid up on the hard for a whole year and reasonably well looked after in the Smir marina in Morocco. I had visited her twice to check her out and then to get her ship-shape again before I managed to get away from work and recommence sailing again.
June 21st 2011 Mabi, I and Giuseppe flew into Seville from Cagliari in Sardinia and early next morning took the bus to Algeciras, then the ferry over to Spanish Ceuta on the African coast. After the usual long customs formalities, we finally entered Morocco and took a 10 Euro taxi ride down to Smir marina, where Mabi Two was waiting for us, all ready to be launched, after a full year out of the water.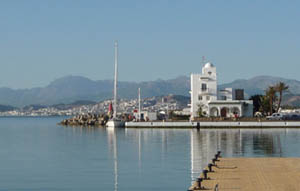 Marina Smir
The travel lift had been reserved, so under a 40 degree sun, the boat was lowered gently into the water by 16.00. We had our celebratory dinner at the only "wet" restaurant in the marina allowing us to enjoy a good wine with our meal. At 11am next morning, after the mandatory customs formalities, we said goodbye to Morocco for now and set off to cross the Straits, where we soon faced strong NW winds and rough seas and had to dodge the many ships plying their way in and out of the Mediterranean Sea. Unlike my other two crossings, there was fortunately no fog, much to my relief and we finally entered Gibraltar Marina Bay, managing to find an available mooring space for two nights.
My stay there brought back many memories of my previous passages there on my way over the Atlantic to Saint Lucia and of the critical landfall at Gib in the dense fog upon my return. I showed my new crew the local sights and brought them to the top of the Rock for a stunning birds-eye view of the Straits of Gibraltar.
June 25th at 10am we leave the marina and rounding Point Europa we encounter 27 kts winds and rough seas again, but Mabi Two takes it all in her stride having seen much much worse in her wide travels. We get into Sotogrande at 12.30, where we are met by friends Vincent and Louise who whisk us off to Castellas, a lovely restored castle in the country for a delicious lunch and afterwards on a sight-seeing tour of Sottogrande, then for evening drinks in the marina.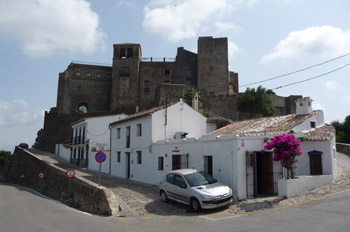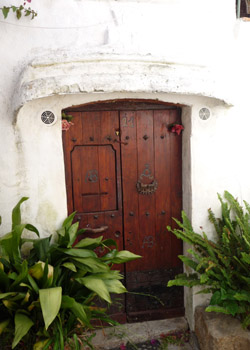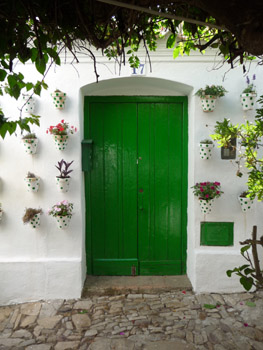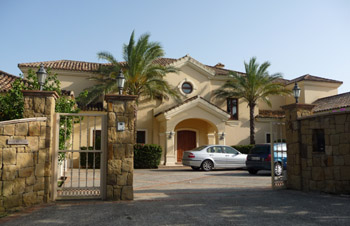 A Sotogrande villa designed by Vincent

June 26th After our overnight stop (at 122 Euro) we leave at 10 am next morning, bringing our friends with us to José Banus, a luxury marina (150 Euro). Here we are kept on the reception dock waiting three hours for the marina office

to open!

After goodbyes to our friends, we make a quick visit to Marbella, then back for dinner on the waterfront, enjoying the spectacle of the "floor-show" of aspiring VIP's and jet-setters showing off their flashy cars, Ferraris, Lamborghinis, Maserattis, Bentlys etc. Here there is much nightlife, compared to the more sedate Sotogrande, with many large luxury motor yachts, though I wonder what they do with them with such an uninteresting coastline in this Sourthern Spain.

Next morning, June 27th we have breakfast in Marbella and a walk around the old town, which we find very attractive. At 12.00 we are back in the marina to make sure I get back my deposit of Euro 250 for the return of the electric plug, then off to Benalmadena in a flat sea and mild easterly breeze.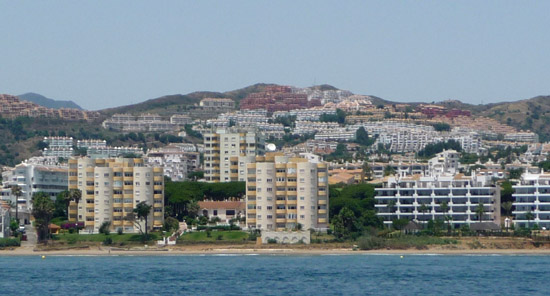 Sailing along this coastline we are quite shocked to see so much development with what appears to be millions of apartments in countless high-rise buildings. There are some 50 golf courses between Cadiz and Malaga. However it is all well-kept with lovely gardens everywhere. On the sea there are very few boats around, except for some small craft near our final destination of Benalmadena. After registration at the friendly marina office, we secure Mabi Two to her mooring where she will stay for two or three weeks until we can come back again to continue our cruising. Benalmadena is a lively development with Venice-like canals between the apartment blocks and with many shops and restaurants, however a different level to the classy José Banus.
Early next morning a taxi to Malaga, then a bus back to Seville for our flight to Sardinia.
The Mediterranean Sea
mediterranean-yachting.com
Copyright L. Camillo 2011