Mabi Two

Circumnavigation of Sardinia
A cruise right around Sardinia can be quite adventurous, as there is a shortage of marinas and sheltered bays on the western coast, but one should not be discouraged. I have done it twice and can recommend it, by taking some simple precautions. Stocking up on fuel and water, when available and carefully calculating sailing times between one port and another, without being tempted to stay on late for that last swim. Otherwise you may find yourself sailing into the night. And of course, watch the weather forecasts.

In circumnavigating the isle, one should proceed counter-clockwise, to sail downwind on the west coast and to sail northwards on the sheltered eastern coast. Once you leave the madly hectic Costa Smeralda coast, you will find yourself sailing practically alone and enjoying blissful solitude in the beautiful but rare ancorages. In August the Italian Navy allows you to stop in delightful bays on the southern coast, otherwise strictly forbidden.

(Cliccare qui per il racconto in lingua italiana - for the full story in Italian)

When you leave the busy waters of the Costa Smeralda, you often find yourself the only boat on the horizon, even at the height of August. Passing Capo Testa, travelling in an anti-clockwise direction, you reach

Stintino, Alghero, Carloforte, Cagliari, Cala Gonone, and then on to the outskirts of Tavolara – pleasure boats are rare, but then so are the ports! It is for this reason that boats do not venture forth more often, fearing not to find shelter or supplies.

But I have done this trip twice and I cannot recommend it highly enough. Setting out from Porto Cervo in good weather, you can arrive directly at Stintino (even by sail) 48 miles away. On the way, you can stop at the marina at Castelsardo and walk in a spectacular Medieval town. Now that there is access to the island of Asinara, it is worth staying at Stintino a few days to discover it. The Passo dei Fornelli, between Pelosa di Stintino and the island of Asinara is the point of reckoning – from here there are few boats to be seen on the western coast of Sardinia, exposed to the open sea and the mischevous Mistral wind, and there are few places of shelter. But the coast is of such a wild and natural beauty it is well worth it.

From Stintino to the small marina at Porto Conte is 36 miles or 40 miles to Alghero, along a rugged coastline. Alghero is an excellent tourist city, with good marinas, many restaurants and much to

see. From Alghero to Bosa is only 20 miles andwith no marina, but a commercial quay and several moorings.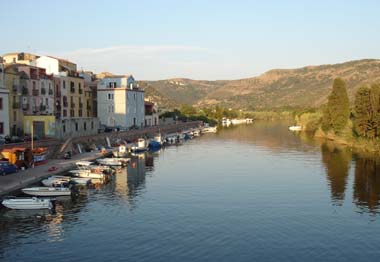 You can navigate up the river with your tender to the town of Bosa
The next place of shelter is 30 miles on, at the inlet in front of the marvellous Punic ruins of Tharros. You can anchor and visit the site and church S. Giovanni di Sinis, one of the oldest in Sardinia.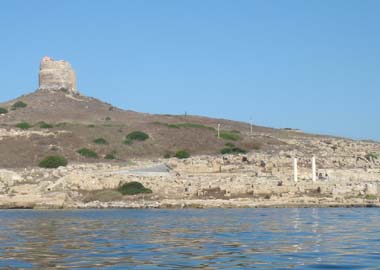 The Phoenecian-Greek-Roman ruins of Tharros, makes an enchanting ancorage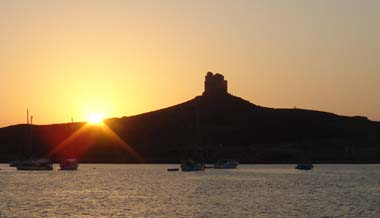 Sunset at Tharros

The next port Buggerru is 30 miles on from Tharros, but is silted so you must anchor outside, if the weather is good, otherwise you must continue to Carloforte. You must plan your trip well on the west coast and make sure that you have enough time to reach a secure spot for the night. If you encounter bad

weather after leaving Bosa, you have no choice but to head for the next secure port - Portoscuso or Carloforte which are 67 miles away! You must also keen an eye on fuel as it is scarce and must phone ahead.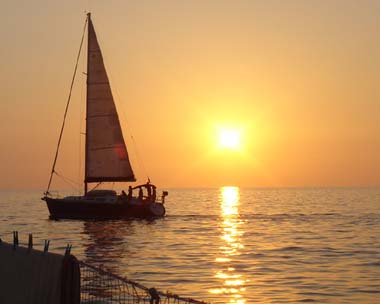 Sunset at the old mining town of Buggerru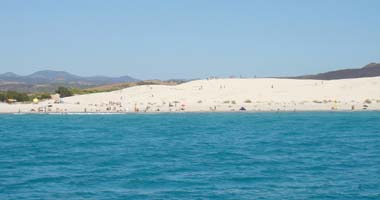 Porto Pin o, not a port, but a military sand-dune beach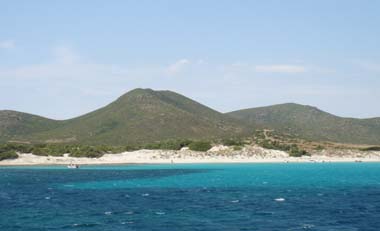 Cala Zafferano an excellent ancorage at another military beach open in August
Leaving Carloforte there are many military beaches and anchorages permitted in summer: Porto Pino, Cala Piombo, Cala Zafferano (spectacular) and Porto Scudo before you arrive at Teulada 25 miles away. This is a great port, but there is nothing else there. Watch out for the rock near the point of Cala Piombo (38° 53 800N 8° 35 681E) – only 70 centimetres below the surface. Cagliari is a good city and deserves a thorough visit. The next leg is the modern marina at Villasimius, 20 miles away, in the Capo Carbonara national park, then comes Porto Corallo (20 miles), and further on the efficient port of Santa Maria Navarrese (58 miles).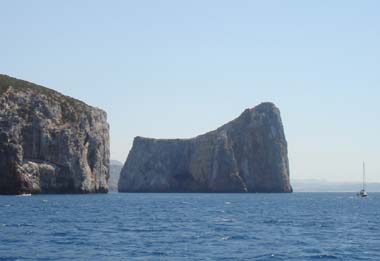 Pan di Zucchero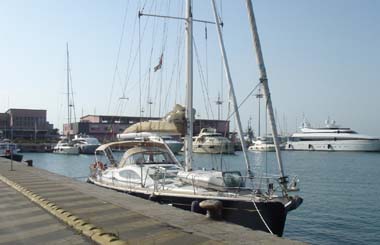 Alongside at Cagliari
Heading north, the exquisite beauties of the Gulf of Orosei await you: Cala Goloritzč, Cala Mariolu, Grotta del Fico, Cala Biriola, Cala Sisine, Cala Luna and the Grotta del Bue Marino. The port of Cala Gonone is small, insecure in bad weather and you can't reserve a mooring. With strong wind you must head to La Caletta, 46 miles from Santa Maria Navarrese although Ottiolu, five miles on, is much more inviting. Now we are already in sight of Tavolara so, after three weeks, we have completed the circumnavigation of Sardinia. An unforgettable experience.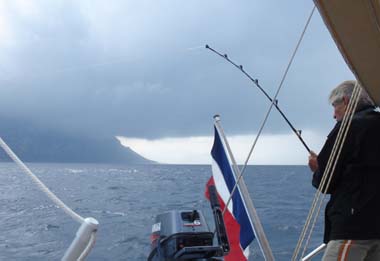 Fishing notwithstanding a storm coming on at Tavolara
(Published in Yachting Costa Smeralda July 2008)
The Mediterranean Sea
mediterranean-yachting.com
Copyright L. Camillo 2008